Classic photovoltaic system with panels and inverters connected to the internal distribution of the house is the easiest way to reduce energy bills.
Currently, more and more uses accumulation in the batteries. NWT has experience in dealing with companies Fronius and Sony, which introduced a joint project in the field of small hybrid systems under the name Fronius Energy Package.
The first systems of this kind are already installed since the summer of 2015 for our customers.


Why?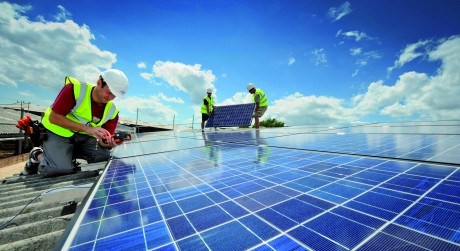 All electrical power in this kind of power derived from solar radiation. Therefore, the photovoltaic power plant are working in harmony with nature and reduce the burden that creates a "dirty" conventional sources. The old myth is that in his lifetime produces less energy than is needed for their construction. In fact, the energy invested in manufacturing panels is returned in about one year. Additionally lifespan system is using quality components by up to 40 years.
Where?
Wherever there is a permanent power consumption. The typical investor in this system is the owner of a house with electric heating, with a workshop or production that works during the day or the owner of the company where the daytime electrical energy consumed in air conditioners, computers, lighting and, of course, for the manufacture of machines and technologies. The slogan of the future is energy independence. Photovoltaics is the simplest system, which contributes to it. In the future, small photovoltaic extendable with power system stored in batteries will be common.
How?
The conversion of sunlight into electrical energy occurs in photovoltaic panels, which produce direct current. It may be subsequently converted to AC inverter (230 / 400V) and brought into the power outlet or distributor within the building. The object then primarily consumes energy, which has been produced in the local feed, and from the distribution network is removed only energy when the local resource is insufficient.
Another option is to use photovoltaics in island operation to power cottages, caravans and other buildings where there is no electricity connection.