Kameničany Farm

We cultivate premium tomato varieties that customers literally become addicted to
When we were looking for a meaningful way to utilise electricity and heat from our biogas station in Kameničany, we became enchanted with cultivation greenhouses in the Netherlands. In a country with a similar size and population as the Czech Republic, they operate cultivation greenhouses on more than 10,000 hectares.
It was clear that if we wanted to offer turnkey greenhouse construction, we had to demonstrate that a hi-tech greenhouse is also economically feasible in the Czech and Slovak environment. At the same time, our laboratory is our own project and a source of invaluable operational experience. We offer investors-farmers only the technologies we ourselves have tried, and when designing technology, we avoid the mistakes we made while learning the business.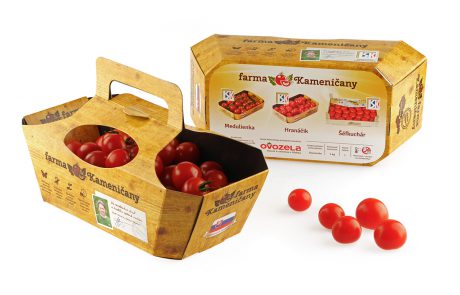 In 2014, we built the most modern hi-tech cultivation greenhouse in the Czech Republic and Slovakia. Thanks to cultivation lamps, it is the only greenhouse to supply the market 12 months a year. Sustainability is a key issue for us. The heat and electricity source for our greenhouse is a biogas station. We minimise transport emissions by growing tomatoes for customers in the Czech and Slovak republics. We use biological control as a method to control pests. We use organic substrate which is composted after the end of the growing season. We collect all the rainwater and excess water from irrigation and re-use it for watering the plants. We have created 40 new year-long jobs for local residents.
We decided to grow only the most delicious varieties in the top segment of tomatoes, so we are not competition for home producers. From the beginning, we have focused on both cultivation and marketing. We are honoured to have become the fruit and vegetable grower with the biggest Facebook fan community in Slovakia.
More infomation at www.farmakamenicany.eu
Follow us on Facebook